Toastmasters District 107 Fall Summit 2022 – Seville, Spain
Shine Beyond the Words
November 4 – 6, 2022
Enjoy this year's District 107 Fall Summit in sunny Seville. Don't miss this opportunity to meet colleagues from Spain, Portugal and Morocco while doing something you love: learning.
Venue
We are proud to annnounce that the venue for Summit Seville 2022 will be:
EOI – Escuela de Organización Industrial Andalucía
EOI Andalucía is the place where Toastamaster Seville usually holds its meetings and it is a pleasure for us to host there such a magnificent event as Summit Seville 2022.
With different talks and workshops, you will be sure to take some of that Seville sunshine home with you in the form of inspiration for your speeches. The Seville fall Summit will help you make sure you shine beyond the words long into the winter months.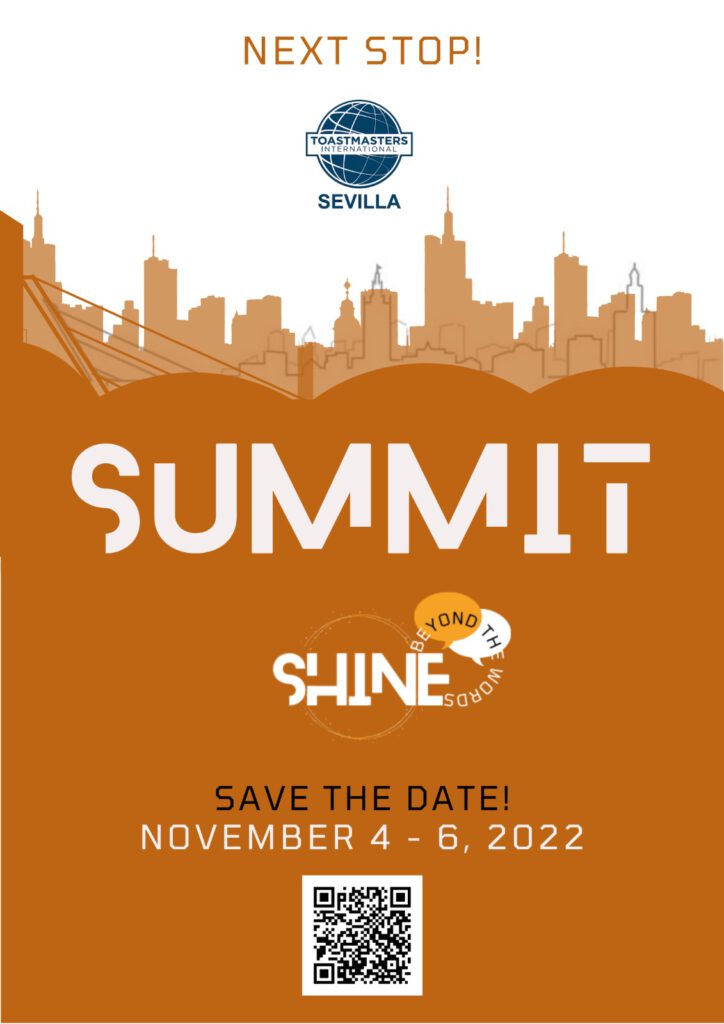 Seville Fall Summit Registration
Registration for the Toastmasters District 107 Fall Summit, Seville, will open soon.
Please fill in your details below and we will keep you up-to-date of the news of the event.
Seville Fall Summit Program
We are currently putting the final touches to the exciting program we have in store for you. Activities will include workshops, keynote speeches, impromtu sections and a superb gala dinner.
About Seville
Seville is a wonderful place to spend a few days!
The city's wealth of tourist attractions combined with its tradition for excellent tapas will give you plenty to feed body and mind. Take advantage of your trip to spend a couple of extra days in Seville before or after the summit.
And don't forget:
Shine Beyond the Words