SEVILLE, November 2022
Toastmasters District 107 Fall Summit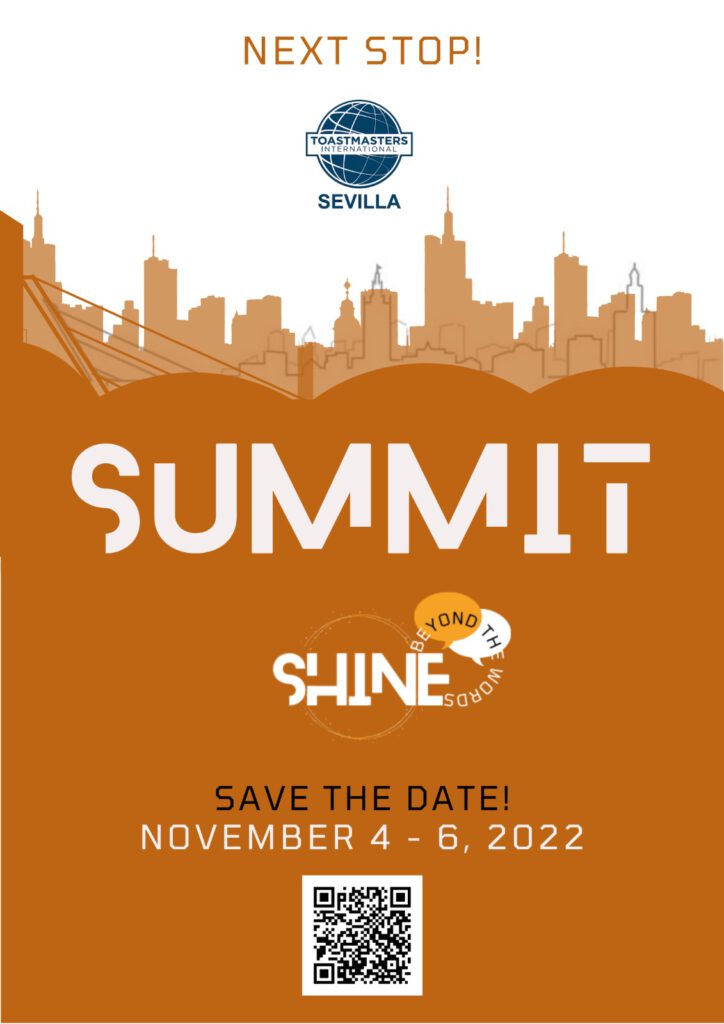 District 107 Toastmasters Fall Summit is over.
It was a great opportunity to meet and make friends with other Toastmasters from Portugal, Spain, Morocco and other countries. We did SHINE BEYOND THE WORDS!
Thanks to all the attendees. So happy to have had you here in Seville !!
See you in Tanger very soon… 😉
Photos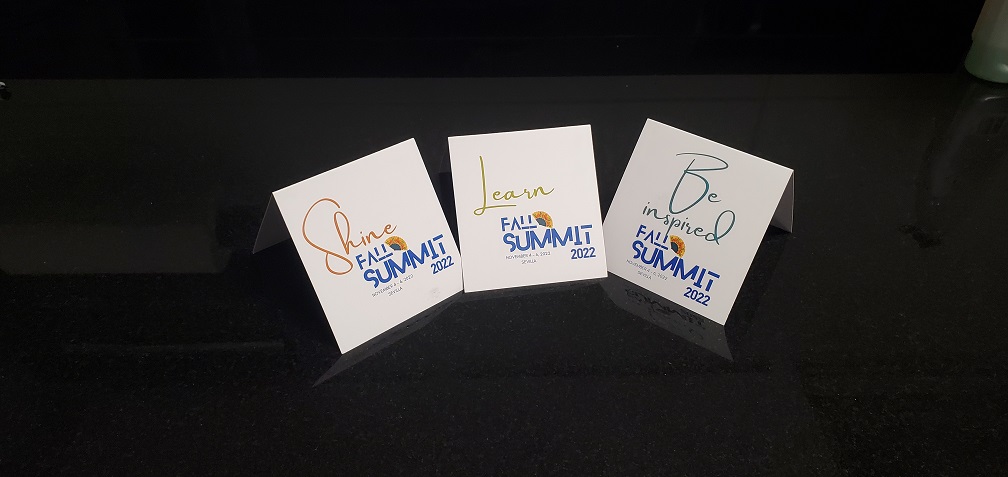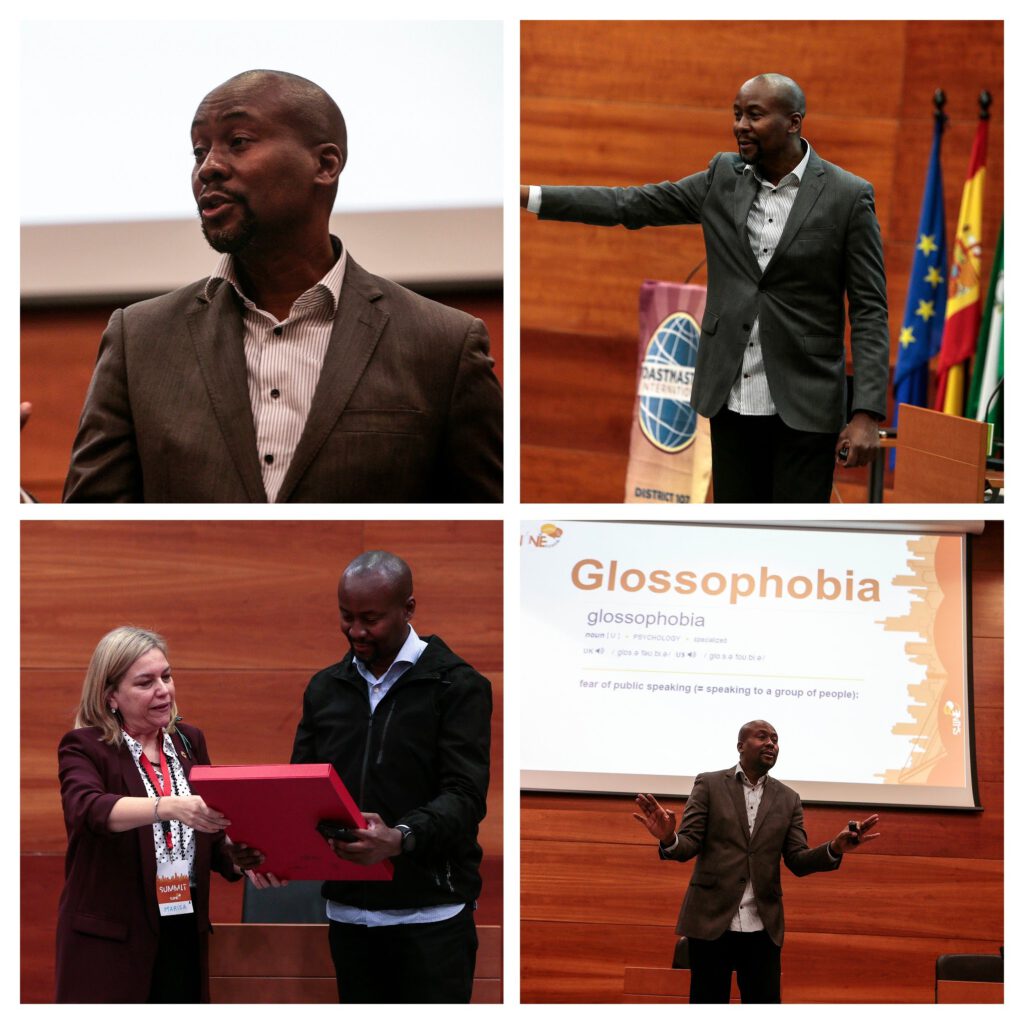 Agenda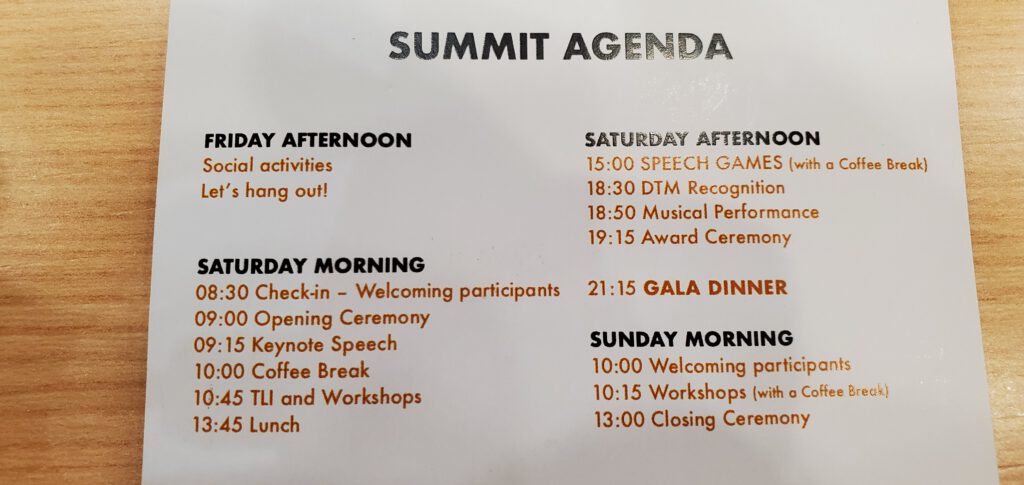 Saturday 5 November
Keynote speech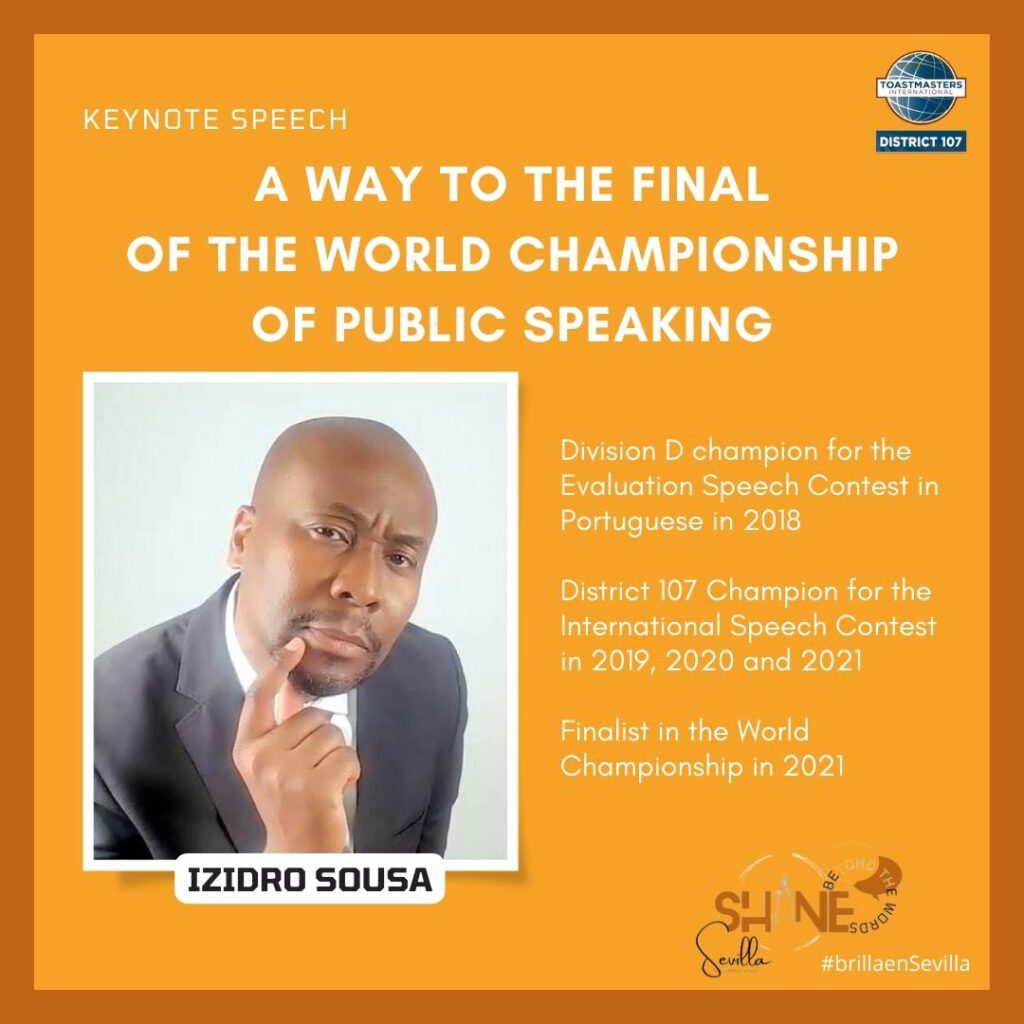 A Keynote Speech in which our very own 3 times International Speech Contest Champion Izidro Sousa will tell us about all the ways in which his contest-winning journey has helped him SHINE.
Born in Sao Tome and Principe, Izidro lives in Portugal since 1990. He has a degree in Information Systems and Management, a Masters in Innovation Management, and a MBA – Master of Business Administration. Professionally, he works with computers and technologies, having been a Computer Programmer, a Project Manager and a Director of Department.
He is also e communication coach, mentor and certified trainer.
He joined The Lisbon MBA Toastmasters in July 2017 and became a dual member in 2021 by joining the PMI Portugal Toastmasters. With experience as VPPR, VPM, VPE, President and Immediate Past President, currently he is the D1 Area Director.
He has attended several contests since 2018:
– In 2018 he became the champion of the Division D for the Evaluation Speech Contest in Portuguese.
– In 2019, 2020 and 2021 he was the District 107 Champion for the International Speech Contest.
– In 2021 he reached the World Championship of Public Speaking after two qualifications in the Region 10 contest and in the World Championship Semifinals respectively, becoming top 8 out of more than 30 thousand contestants around the world.
More on: Izidro Sousa | LinkedIn
The TLI, Training Leadership Institute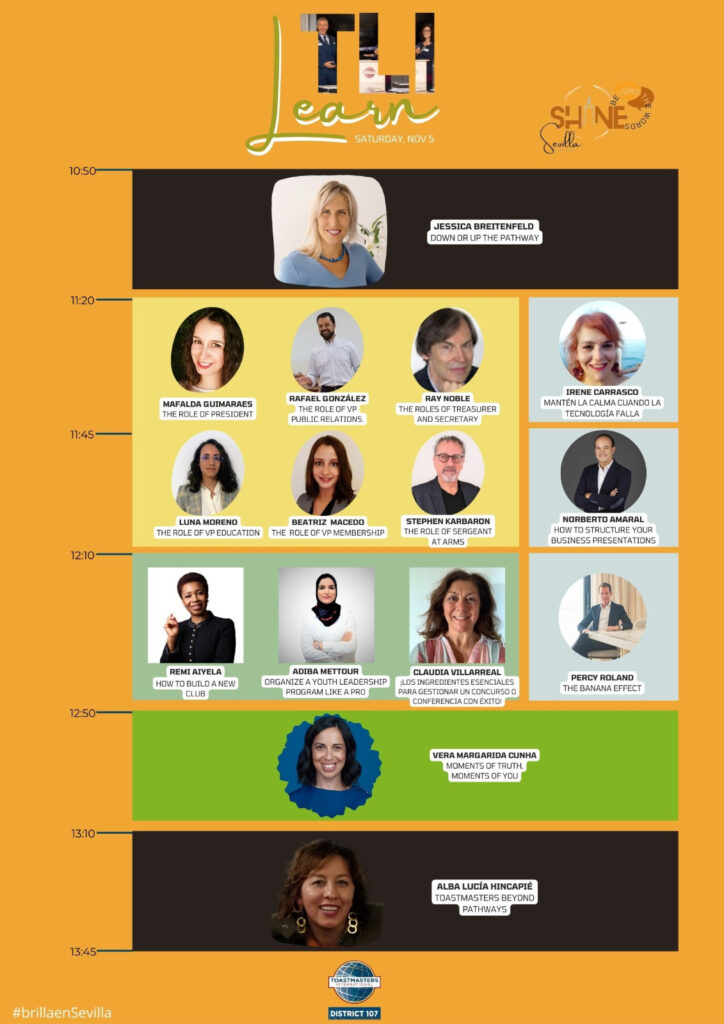 A number of interesting workshops and presentations that will help you make the most of your year as a Club Officer. And it counts towards the Club Leadership Program! Learn how you can SHINE developing your leadership skills. If you are not an officer, we got something for you too! Improve your communication with the best trainers of your District
Flamenco!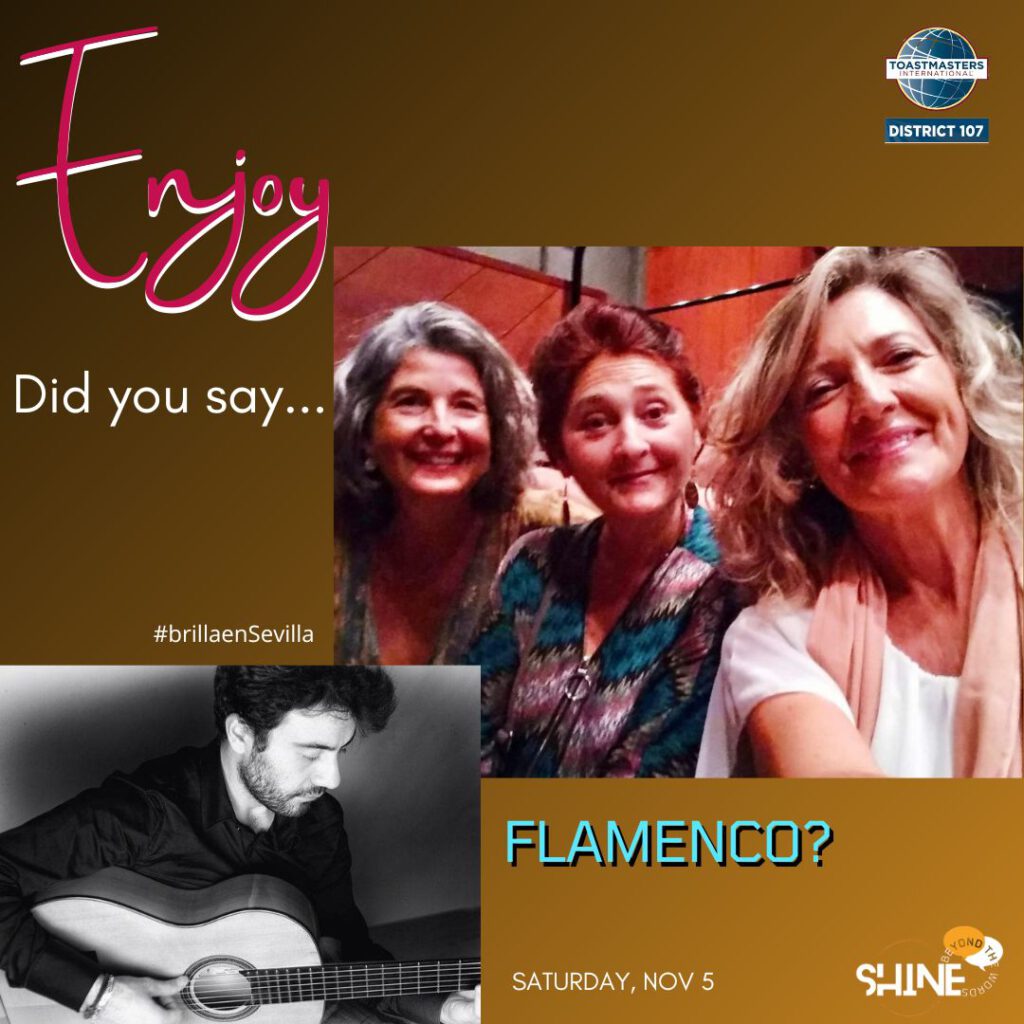 A Gala Dinner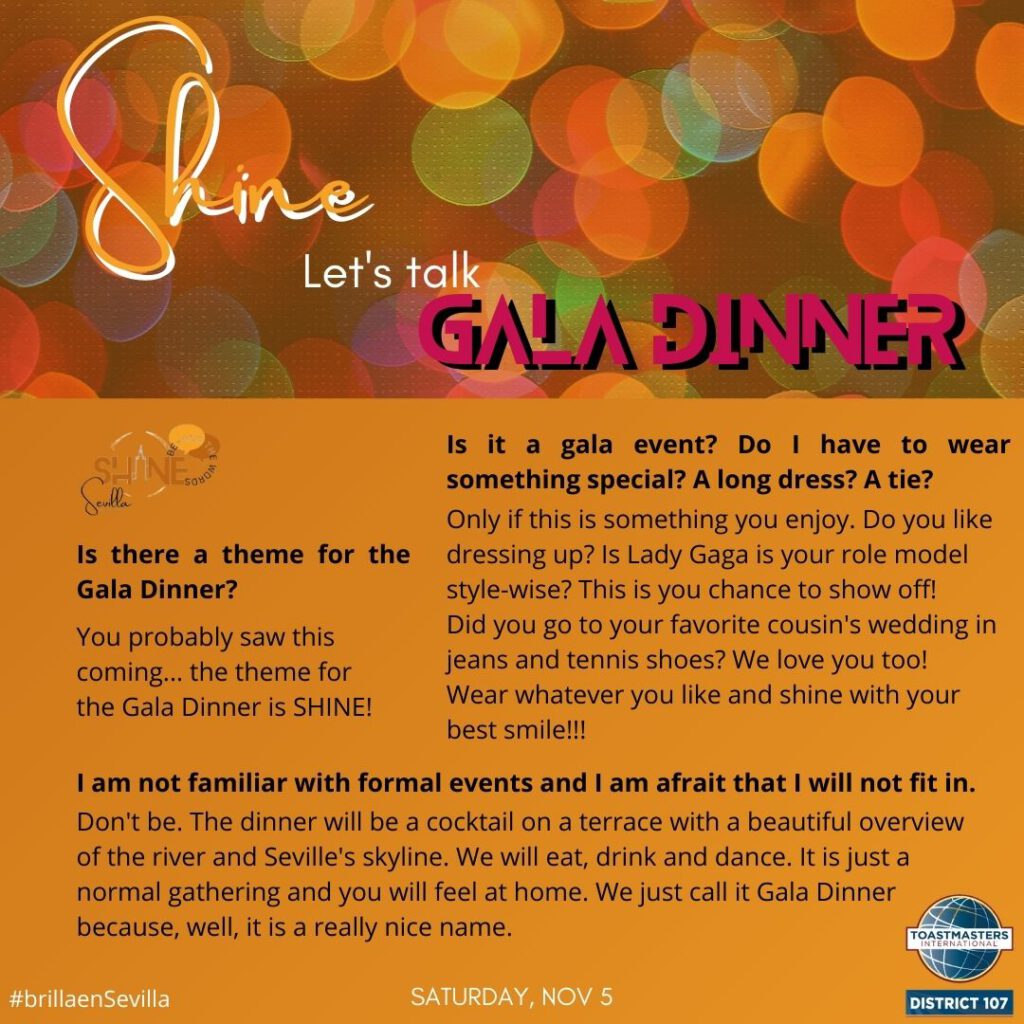 SHINE the brightest in a cocktail-dinner with the best views of the Seville skyline. We will share, enjoy and dance the night away.
An event of such category as this one needs a celebration that is up to the circumstances. We will have fun in one of the most exclusive terraces with the best views of Seville: Level 5th.
The celebration will take place on the Level 5th terrace, a place for enjoy Seville from the sky. His panoramic terrace offers you the experience of enjoy Seville from the heights. You can see all the emblematic monuments of the city: the river Guadalquivir, Triana, the Torre del Oro, the Cathedral and the Giralda. All this accompanied by top quality premium drinks, the best music and an incomparable atmosphere!
There's even more! The terrace is located in the hotel Ribera de Triana – Seville, with the code TOASTMASTER, you will receive a 10% discount on accommodation at the hotel.
Ribera de Triana Hotel and Level 5th terrace
Sunday 6 November
More workshops to raise our standards, led by world-class speakers: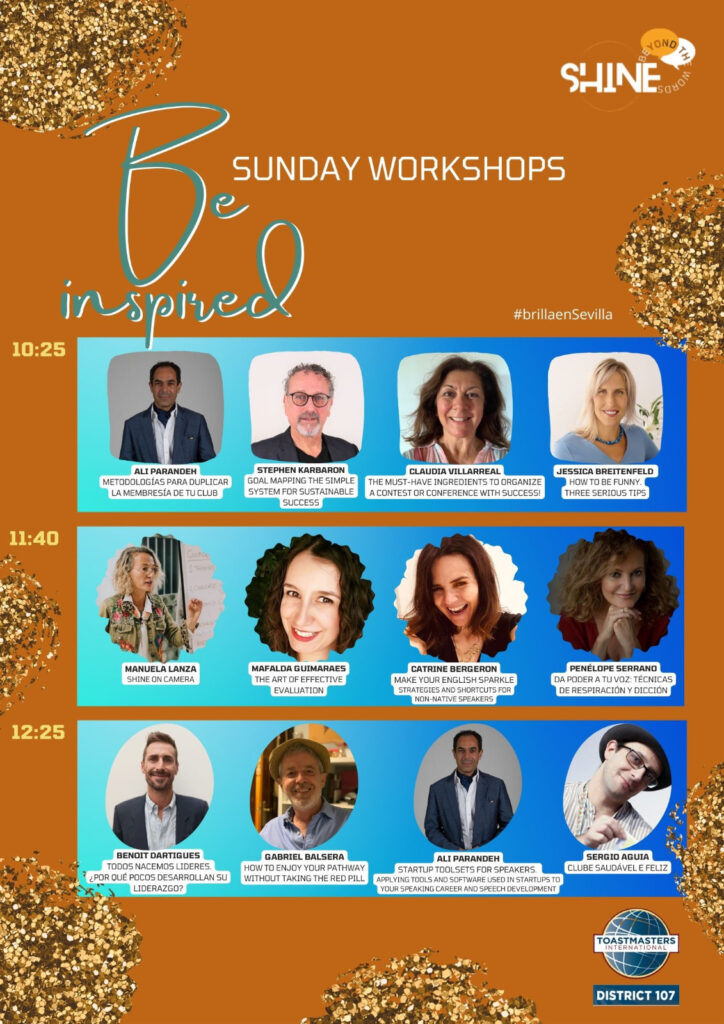 «Critical thinking in daily life», by Lukas Liebich!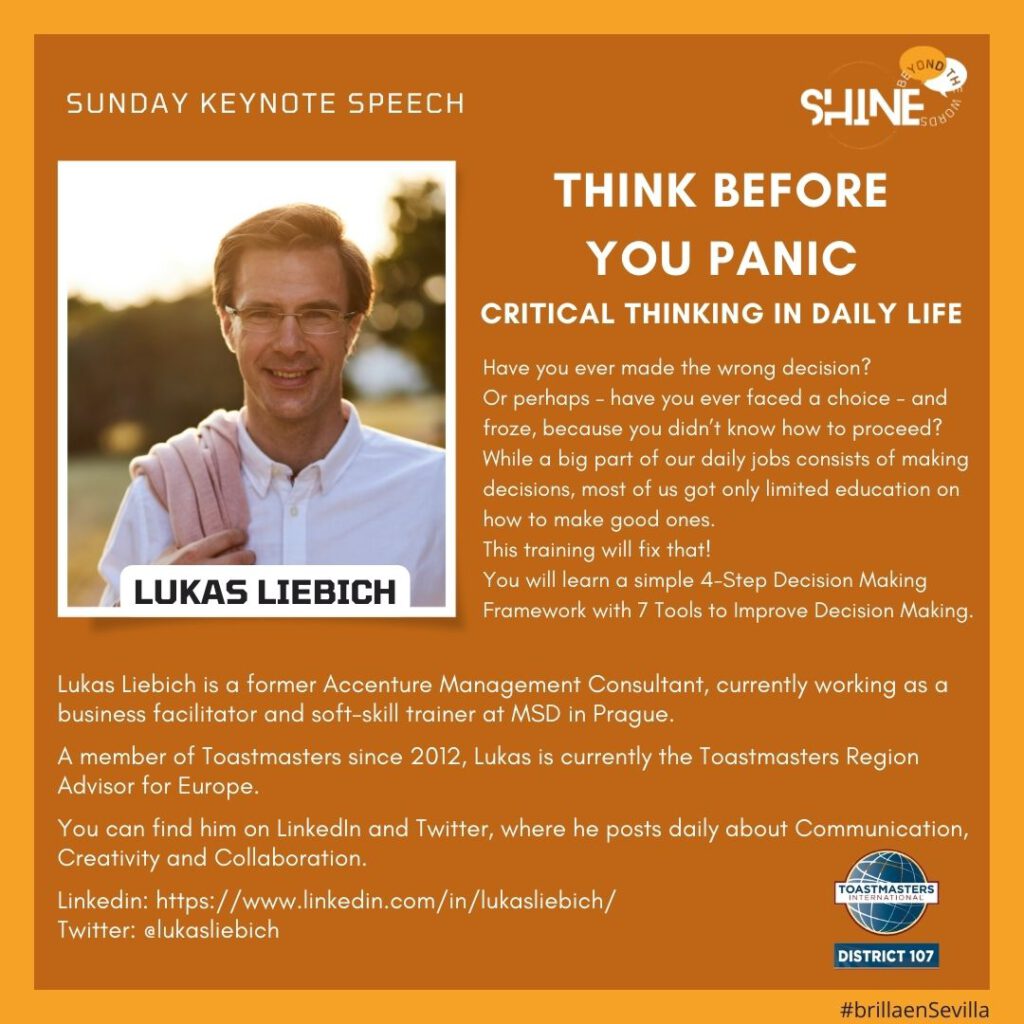 And we are having a great family photo (because we are a big family at Toaastmasters…). Don't miss it!
Registration
Registration for the District 107 Toastmasters Fall Summit, Seville is close.
Thanks to all the registered.
Pricing Periods
Early Bird: September 1st and October 2nd
Regular: October 3rd and October 20th
Late Bird: October 21th and October 30th

Please, note the reference date for pricing period is always payment date not registration date.
Registration and payment will be closed after October 30th.
Packages
Package
Description
Early Bird
Regular
Late Bird
Full Package
TLI, Speech Games, Coffee-Breaks, Workshops, Saturday Lunch +
Gala Dinner
107 €
120 €
135 €
Small Package
TLI, Speech Games, Coffee-Breaks, Workshops, Saturday Lunch
70 €
80 €
95 €
Gala Dinner
Gala Dinner only
42 €
45 €
60 €
Important note for PayPal users:
Recommended option during checkout process is: «Sending to Family/Friend»
In case, you are unable to select that option during the payment checkout, an additional extra to cover PayPal fees of 6 EUR must be added.
For instance, for Full Package/Early Bird total would be 107 EUR + 6 EUR = 113 EUR.
Payments not observing that rule would not be valid.

Venue
Fall Summit Seville 2022 will be held at EOI – Escuela de Organización Industrial Andalucía.
EOI Andalucía is an important place for us, since it is where Toastmasters Seville usually holds its meetings. So, it is a pleasure for us to host there such a magnificent event as Summit Seville 2022.
About Seville
It is difficult to condese in a few lines the huge appeal of Seville.
Seville is a wonderful place to spend a few days at. The city's wealth of tourist attractions combined with its tradition for excellent tapas will give you plenty to feed body and mind. Take advantage of your trip to spend a couple of extra days in Seville before or after the summit. Here you have a city guide:
And don't forget: Shine Beyond the Words